Microneedling
All prices on this web site are subject to change without notice.
Call 770.437.1133 to verify current pricing.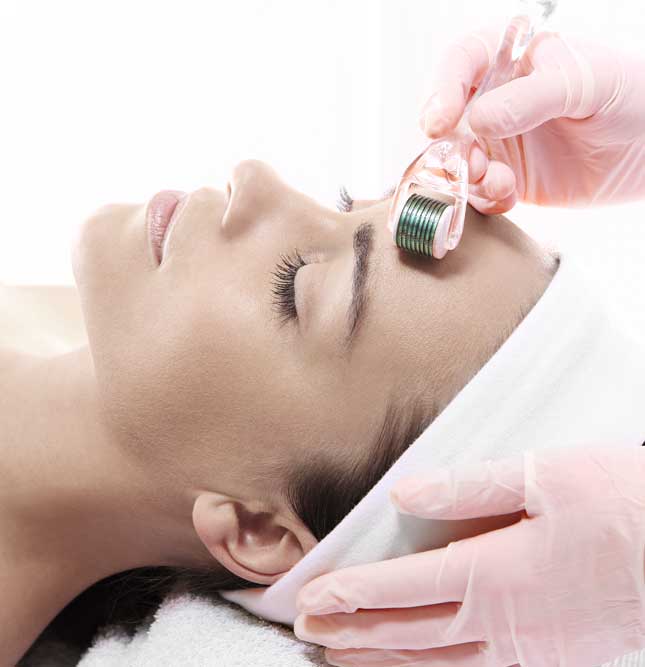 Free Consultation
Schedule a free 30 minute consultation. We will answer all your questions and help you decide which treatments are right for you.
What is Microneedling
As a result of aging, skin loses collagen after age 30. One of the most effective ways to promote new collagen production is a procedure known as microneedling.
recommends repeating treatment 3 times a week for long-lasting results. Microneedling involves using fine needles to create hundreds of tiny, invisible puncture wounds in the top layer of skin. It is minimally invasive treatment with great results! The micro-injuries you create stimulates the body's natural wound healing processes, resulting in cell turnover and increased collagen and elastin production. The primary appeal of microneedling is its ability to stimulate growth of collagen and elastin, which is the key to youthful-looking skin. It utilizes the body's own natural healing mechanisms, so the results are very natural. The procedure has minimal downtime, so its recommended as maintenance for people trying to stave of the Microneedling can treat:
signs of aging
Benefits include improved skin tone and texture, resulting in smoother, firmer looking skin. Additionally it improves product
absorption. Topical serums and products penetrate more efficiently, giving you the full benefits of any productfine lines
acne scarring
hyperpigmentation and sun damage
skin elasticity
large pores
The treatment session usually takes about 60 minutes, depending on the areas being treated. After the procedure, the skin will be red, with mild swelling and your skin might feel tight and sensitive to touch. Although these symptoms may take 2-3 days to resolve completely, they will diminish significantly within a few day.
Dermaplaning
Dermaplaning is a method of exfoliation that consists of using a 10 gauge scalpel to gently scrape off the top layer of dulling dead skin cells in order to reveal a smoother, brighter complexion. Dermaplaning removes all the dead skin cells and also the facial hair, leaving the surface very smooth. Dermaplaning also allows for greater penetration of skincare products and creates a flawless canvas for makeup to glide on smoothly. It is recommended for all skin types except those with acneic skin.
If you have deep cystic acne, wait until breakouts are clear before trying this treatment. As always, also discuss any allergies or skin sensitivities before starting a treatment. This is a great treatment if you are pregnant or nursing and want exfoliation without the risk of harsh chemicals absorbing into the blood stream and potentially harming your baby. There are no side effects and zero downtime.
After the treatment, your skin will be highly sensitive to sun exposure and may already look very pink, so be sure to wear a broad-spectrum sunscreen with SPF 30 or higher to reduce the risk of hyper-pigmentation. You'll immediately look more radiant with a more even skin tone and texture. All of your peach fuzz will be gone, which is why first-timers say their skin has never felt so soft before.
$95 per treatment (Its take 35/45 minutes)
Light Therapy
LED therapy use color light therapy (UV-free) in specific wavelengths via tiny LED bulbs to increase facial blood circulation and promote collagen production, skin healing and acne reduction.
LED is great for reducing the appearance of fine lines and wrinkles, improving uneven skin tone, reducing pores size, and brightening the skin. The result is the complexion is plumped up with new collagen (which pushes the folds of the wrinkles out) and new elastin (which helps to tighten the skin and give it more elasticity). Sounds good, huh? Another draw card is that there's no downtime and it can be done in a lunch break. recommends repeating treatment 3 times a week for long-lasting results.
Plumped, glowing skin immediately after treatment
Less wrinkles, fine lines and sagging skin after about 2 weeks
Faster healing of acne
Speedy elimination of acne breakouts
Prevention of new acne breakouts
Treatment takes 30 minutes and requires 2 or 3 times a week in one month  (Dollar per minute)
Series purchase available.
Buy 5 of same treatments and receive the 6th treatment free!

Visit Us
ADDRESS
300 Village Green Circle Ste 108
Smyrna, Georgia 30080
When
HOURS
Monday-Saturday: 10:00 AM - 6:00 PM